PORTRAIT
Raphaëla le Gouvello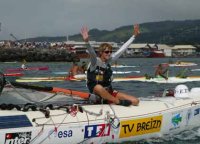 Raphaëla le Gouvello is 45 years old, a qualified veterinarian specialized in aquaculture (fish farming) and managing director of a company in Pénestin, Morbihan, and has always had several irons in the fire: first her studies, then her profession and her passion for windsurfing. She discovered windsurfing with her family in 1976 and has been an adept ever since: her first competitions date back to 1977 and she began teaching the sport to beginners in 1978.
In 1982 she was the only woman participant in the 24 hour International Event at La Baule where she completed the event with 17 other participants out of 36 competitors.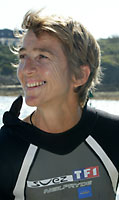 The call of the open sea was immediate for her and the idea of crossing the Atlantic became more and more important. In 2000 she took 58 days to complete the challenge which she had taken so much time to think about and prepare for. After this unusual career path Raphaëla is:
- A woman with a passion: 3 extreme adventures, the Atlantic in 2000, the Mediterranean in 2002 and the Pacific in 2003: 3 previously unaccompanied, authentic exploits;
- A woman of business, involved in both French and international economic and professional development, who created her own company "STERMOR" a specialized consultancy for nutritional/health and hygiene aspects of aquaculture (1994);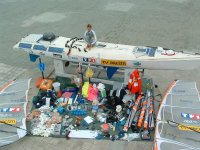 - A woman who counts in the field of research. She is in constant contact with French and foreign scientific institutes;
- A woman of convictions, via her professional commitment over more than 20 years to the sustainable development of aquiculture, through her sporting challenges which she always links with the promotion of ecology and through her everyday life as citizen of the planet … "I commit, I windsurf for the planet".
††